I am not quite prepared to discuss my long trip to Australia (June 19–July 8), so for the time being I will simply note some interesting recent developments in Lovecraftiana—and Joshiana. One of the most interesting is nothing less than a vinyl LP, Selections from "H. P. Lovecraft: A Short Biography," just issued by Cadabra Records (
https://cadabra-records.myshopify.com/collections/frontpage/products/h-p-lovecraft-a-short-biography-written-and-read-by-s-t-joshi-lp-with-music-by-chris-bozzone-yellow-with-black-swirl-vinyl
). I edited my 40,000-word text down to about 8000 words and read it myself in two sessions at a local recording studio. I have not actually heard the accompanying music by Chris Bozzone, but I imagine it is quite evocative. I have several spare copies that I am prepared to sell for $25 each (which includes media mail postage in the US).
I have now heard that the first volume of the Italian translation of I Am Providence will now be available in October. I believe Pietro Guarriello is the translator. I see that the cover design for the book has already been prepared: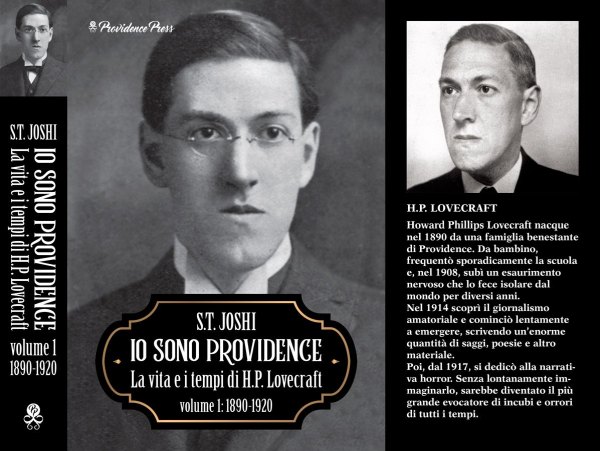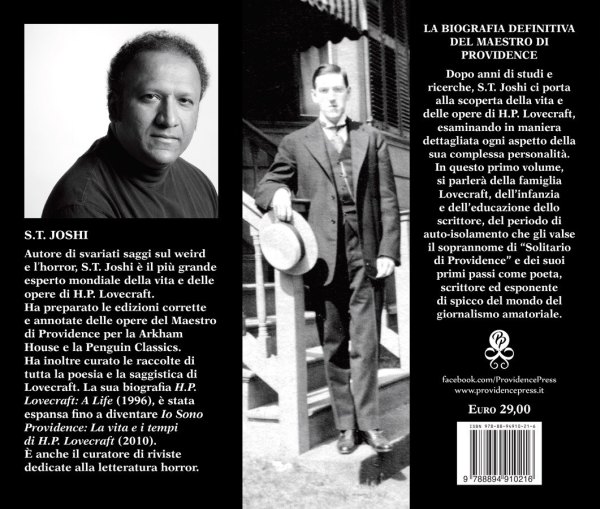 The dust jacket for Io sono Providence
Frank Rossnagel, the translator of the German edition of the book, informs me that his work on Volume 2 is done and that the book will appear "in a few months." So then the book will be in French, Italian, and German! The earlier version, H. P. Lovecraft: A Life, has already appeared in a doorstopper of a volume in Polish. A Spanish publisher was contemplating translating I Am Providence, but found the project too big for him; Derrick Hussey is urging the publisher to translate A Dreamer and a Visionary (2001), the truncated edition that I prepared for Liverpool University Press—and which may be reprinted by Hippocampus in the near future.
Vincent Martini has just translated my essay "A Confession of Unfaith" on his website: https://www.terreslovecraftiennes.fr/la-confession-d-un-incroyant. I believe Martini now plans to translate The Case of Charles Dexter Ward.
Another Frenchman, Marc Ang-Cho, has just translated a long interview (which I answered in English via email) into French: https://leschroniquesduchroniqueur.wordpress.com/2019/07/10/interview-de-s-t-joshi/. The English version is also available: https://leschroniquesduchroniqueur.wordpress.com/2019/07/10/an-interview-with-s-t-joshi/. I had spoken briefly with Marc at Les Imaginales.
On another personal note, I may mention that I wrote not one but two musical compositions during my trip, mostly on the long plane rides (to or from Seattle and Honolulu; to or from Honolulu and Sydney). These were "Background" (based on the sonnet in Fungi from Yuggoth) and "My Swan Song" (based on the George Sterling poem that he wrote shortly before his suicide). I had begun "Background" before the trip. I like both compositions, but think "Continuity" is a superior work. Now that I seem to be in the composing mode, I hope to crank out a few more compositions when time permits.
Let me announce here the establishment of a new magazine to be published next summer by Hippocampus Press: Penumbra. This will be an annual magazine, consisting of up to 100,000 words, chiefly devoted to criticism and scholarship of weird fiction (exclusive of Lovecraft), but it will also include a small amount of original fiction (about 30,000 words in each issue). We will not pay for articles, but will offer 3 cents a word for fiction. We may also include a small amount of poetry (no pay, I'm sorry to say). Given that I am no longer the editor of Weird Fiction Review, I feel the need to establish a venue for the publication of solid criticism of the genre (which is not to say that the rotating guest editors of WFR will not publish good work along these lines themselves). So if any of you out there wish to submit something, be my guest!
I was going to write a longish blog just prior to our big trip to Australia (with a stopover in Hawaii each way), but I now have no heart for such a thing. Yesterday morning, our cat Henry was apparently hit by a car and perished. He was probably fifteen years old, and I had had him for fourteen of those years. Readers of my memoirs will know that my first wife and I saw him sitting in the rain in the parking lot of the Methodist church a few doors down from our house in Moravia, New York. This was in the fall of 2005. We took him in, and he quickly became a fixture in the household. He ended up spending most of his life in Seattle, living here from the fall of 2008 until his passing.
Here is a photo of him, taken less than a month ago by our catsitter, Mila Webb: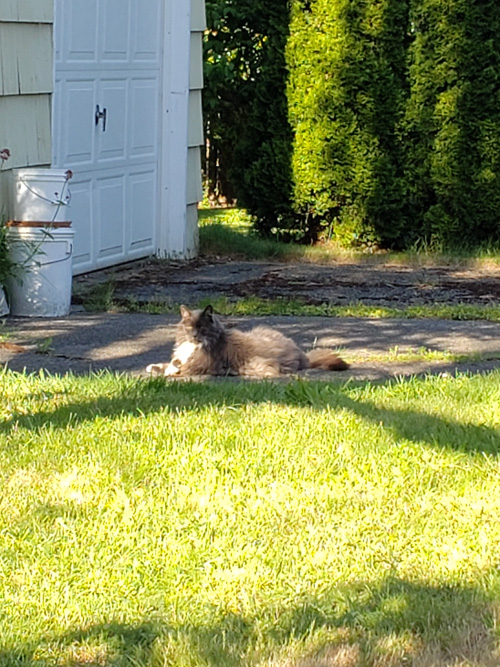 Henry in Spring 2019
It conveys some idea of his regal appearance.
For what it's worth, I have published (through Sarnath Press) a volume entitled Weird Fiction in the Later 20th Century. This is a substantial expansion of my Modern Weird Tale (2001), restoring the cuts—specifically, the chapters on Les Daniels, Dennis Etchison (whose own passing occurred only a few weeks ago), and David J. Schow, along with introductory passages to sections II, IV, and V—that my publisher, McFarland, required me to make. So the book is closer to the way I wrote it back in 1992 or thereabouts. It is now available as a print book and an ebook: https://www.amazon.com/dp/1072960427.
Even though it has been more than a week since Mary and I returned from France, I have not been able to find the time to write about the trip until now—thanks to a combination of a slight cold (probably picked up from one of the several people on various planes who were coughing their heads off), exhaustion, and the ever-present need to stay on top of various projects.
At any rate, we left Seattle on the early evening of Friday, May 19, taking the dreaded night flight to Paris. I did not sleep a wink on the two separate plane rides (Seattle to Reykjavik; Reykjavik to Paris), thanks to the relatively uncomfortable seats on these Icelandair flights. Luckily, we were greeted at Charles de Gaulle airport by a young woman, Samantha Chauderon, who works for my French publisher, ActuSF, and who guided us along the Paris Métro to our hotel—the Hôtel Scarlett, in the Belleville region of Paris, in the eastern part of the city. Over the next two days, Samantha was invaluable in taking us to our appointments and, in general, making sure we were well looked after.
Those appointments included three interviews (including one with RadioFrance, the nation's public radio station) and a book signing at a bookstore in the heart of Paris. Copies of the French translation of my biography of Lovecraft, Je suis Providence, were on display everywhere. The radio interview was facilitated by a translator who was able to translate my responses into French almost the moment the words left my mouth, as well as to translate into English the questions by the French radio host.
We did manage to sneak in some tourist time on Tuesday and Wednesday. The highlight was unquestionably the Musée d'Orsay, a former railroad station that has been turned into one of the most extensive collections of Impressionist art in the world. The several hours we spent there were worth the entire trip! With my own taste for Graeco-Roman art, I relished the many sculptures that were reminiscent of classical statuary, not to mention the many busts and other sculptures by Rodin, including "The Gates of Hell." Paintings by Monet, Manet, Courbet, Van Gogh, Gauguin, and numerous others were also spectacular.
We also managed to go through the Catacombs. I had not done much study of this immense underground repository prior to my trip, so I was surprised that the Catacombs as such were not established until the late eighteenth and into the nineteenth centuries, although of course many of the actual ossuary relics are of far older date. Traversing this site was a suitably grisly experience for a devotee of the weird and macabre.
Then, on Wednesday evening, we caught a fast train to Épinal, where the conference (Les Imaginales) was taking place. This is a small town far to the east of France, more or less in the area of Strasbourg and the German border. We spent the whole of Thursday, Friday, and Saturday there, and also much of Sunday. During these days I conducted six interviews, ranging from websites to the important Paris paper Libération to Le Soir (a leading Belgian paper). The Libération interview has now appeared: https://next.liberation.fr/livres/2019/05/28/lovecraft-admettait-lui-meme-que-les-relations-humaines-ne-l-interessaient-pas_1730121.
Les Imaginales is a convention devoted to fantasy, science fiction, and horror, with perhaps a slightly greater emphasis on the first of these genres. A fair number of authors, both French and English-speaking, were in attendance, and I spent a fair amount of time with some of the latter, including Mark Henwick (the w in his last name is silent), Vic James, Christopher Priest, and others. Regrettably, the hack writer Graham Masterton was one of the featured guests, but I did my best to stay as far away from him as possible. It is unlikely that he has read my evisceration of The Manitou in The Rise, Fall, and Rise of the Cthulhu Mythos.
The convention was not held in a hotel, but rather in a large park in Épinal, with numerous tents housing books, sculptures, jewellery, clothing, and other paraphernalia. There were also a series of posters set up along the various walkways describing the notable events or figures at the convention, including as many as seven posters describing the life and work of Lovecraft. Here is one of them: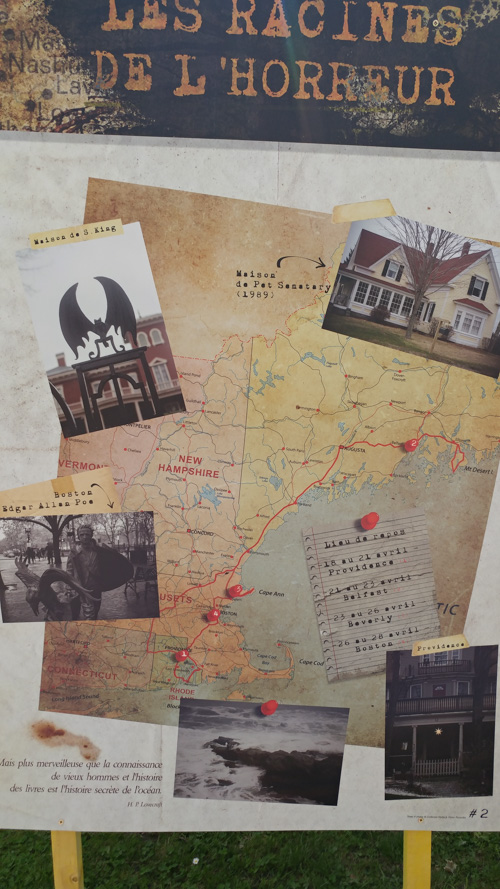 One of the posters describing the life and work of Lovecraft at the Les Imaginales literary festival
One of the highlights was the artwork of a very young artist, Laurent Gapaillard, whose work was featured at an exhibit at a nearby art gallery. The following image cannot even begin to do justice to the incredible detail and spectacular cosmicism of his work, dimly reminiscent of Gustave Doré or Piranesi but truly original and evocative: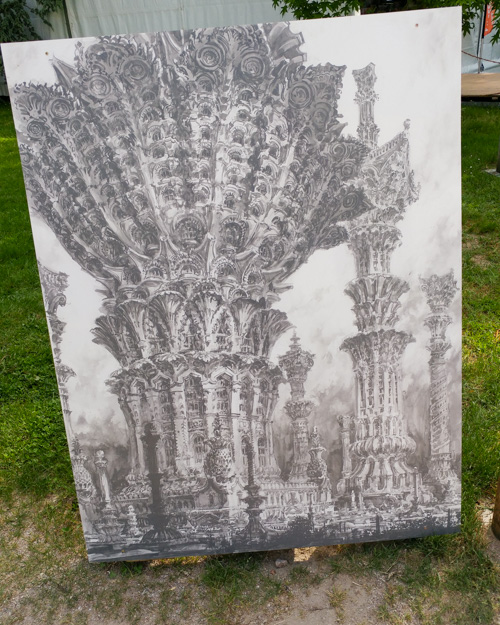 A work by Laurent Gapaillard "cannot even begin to do justice to the incredible detail and spectacular cosmicism of his work"
I was on one panel discussion on Lovecraft, and also gave a solo interview. In these proceedings I was aided by a superlatively skilled translator, Morgane Saysana, who did a phenomenal job in translating my often wordy responses into elegant and fluent French. She also assisted in some of my interviews, although several of these were conducted entirely in English. My publisher, Jerôme Vincent, was also present at a large booth featuring his new publications. And I spent much time with Christophe Thill and his wife, Barbara. Christophe was the supervisor of the French translation of my book, which required ten translators working for a year! I met some of these—including Thomas Bauduret and Annaïg Houesnard—at a dinner on Friday night in Épinal. (I will remind readers that I still have a spare copy of this two-volume French translation, which I am now prepared to let go for the bargain price of $40.)
We returned to Paris on Sunday evening. Monday (May 27) we expected to spend all day in the Louvre, but after standing in line for close to two hours we learned that the museum staff had gone on strike and that the museum would not be open at all that day! This was doubly unfortunate, since many other Paris museums (including the Rodin Museum) are closed on Mondays. We just headed out on a walking tour of the general area, taking in the Église de la Madeleine (a huge church that has the look of a Roman public building), the Place Vendôme, the Tuileries gardens, and so on.
That evening we met Gilles Menegaldo and Martine Chifflot. I had already met Gilles in Épinal, and was interviewed by him on Sunday for a documentary on Lovecraft that he is planning. Martine is also planning a documentary, and she interviewed me (and Gilles) at length before dinner. Martine is the author of Howard, Mon Amour, a delightful short play about Lovecraft and Sonia that she is turning into a film. She has also arranged to have the work translated, and I hope to find a suitable US publisher for it. Here is a picture of the three of us outside a charming used bookstore near our restaurant: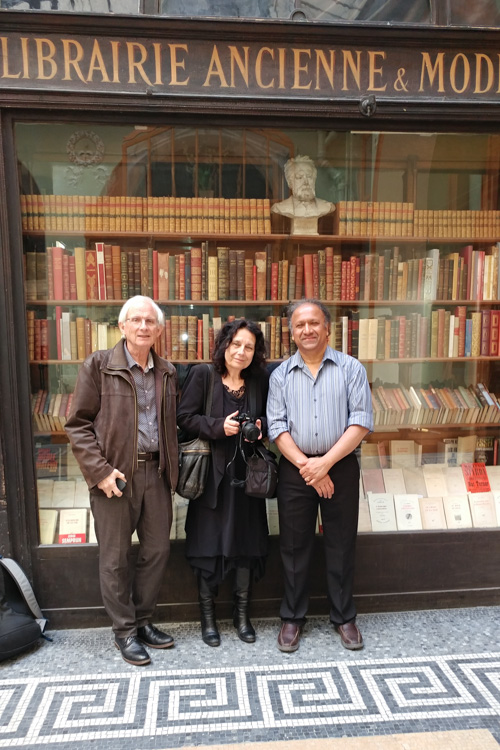 Gilles Menegaldo, Martine Chifflot, and S. T. Joshi in Paris, outside Librairie Ancienne et Moderne B. Faure, "a charming used bookstore near our hotel"
Overall, my trip to France was splendid, even if busy and exhausting. I felt, for the first time in my life, like a celebrity. My biography is apparently causing something of a sensation, as it has already been written up in several newspapers and magazines (it came out in March), and I am enormously grateful to Christophe Thill and his team of translators, not to mention Jerôme Vincent of ActuSF, for bringing it out in such an impressive and attractive edition. Let's hope it helps to clear away many of the misconceptions about Lovecraft's life and work that still seem prevalent in France and elsewhere!
On another note entirely:
I have now received copies of The H. P. Lovecraft Cat Book, the newest publication from Necronomicon Press. It is a splendid-looking item, and I will be happy to part with my spare copies for $15 each.
Now to plan for my big trip to Australia (June 19–July 8)!
On Saturday, May 11, at the First Free Methodist Church in Seattle, my little composition for a cappella (unaccompanied) choir, "Sunset" (based on the Lovecraft poem), was performed. It was a creditable performance, and my webmaster, Greg Lowney, videotaped it. You can see it here: https://youtu.be/Hy8sLLmj9RA. You will see that our accompanist, Carol Buschmann, plays along with the choir on the piece, to help us out a little. And of course you can see me, with my balding pate, in the centre of the group.
We will of course repeat the performance at Edmonds United Methodist Church on Saturday, May 18.
The day after that, Mary and I will head to France, to participate in various events surrounding the publication of the French version of my biography, Je Suis Providence, by Éditions ActuSF. I was thrilled to receive two copies of this fine paperback edition; it is selling for a combined price of 55 euros. If anyone cares to have my spare set, I will gladly part with it for the bargain price of $50.
Most of my time in France will be spent at a large science fiction convention, Les Imaginales, in the town of Epinal, near the German border. I will participate in some panel discussions and also be interviewed by longtime Lovecraft scholar Gilles Menegaldo. But Mary and I hope to get some touristing done as well, taking in the Musée d'Orsay, the Louvre, and the Catacombs on our few days in Paris.
I have just received copies of my selection of Robert Aickman's eighteen best tales as published by Centipede Press in the Library of Weird Fiction series. It is a beautiful-looking volume of some 685 pages, well worth securing for those who do not wish to wade through my massive (and expensive) two-volume edition of Aickman's forty-eight weird tales, issued earlier by Centipede Press in the Masters of the Weird Tale series. This new volume(http://www.centipedepress.com/masters/aickmanlwf.html) is being offered for $45, so I will offer my three spare copies for $40.
I have also received a copy of an edition of William Hope Hodgson's selected tales issued by the British Library, titled simply The Weird Tales of William Hope Hodgson, and edited by Xavier Aldana Reyes. I provided the electronic texts of the stories used in the volume. Here is the publisher's website for the book: https://www.bl.uk/shop/the-weird-tales-of-william-hope-hodgson/p-3077.
Some time ago I received several copies of the Necronomicon Press publication of Lovecraft's The Lurking Fear (https://necropress.com/h-p-lovecraft-clark-ashton-smith-robert-h-knox-the-lurking-fear/). This is a facsimile reprint of the serialisation of the story in Home Brew (January–April 1923). Such a reprint was among the first publications of Necronomicon Press, all the way back in 1977. This new reprint has been "modified" to the extent that the talented artist Robert H. Knox has enhanced the black-and-white illustrations of Clark Ashton Smith by the use of vivid colour. I have written a brief introduction to the book. The list price is $14.95, but I will be happy to let my spare copies go for $10 each.
Otherwise, things proceed here at their usual hectic pace. Hippocampus Press has been a bit slow in getting books out this year, but we hope to pick up the pace substantially in the coming months. Volumes of Lovecraft's letters (to Donald Wandrei and Emil Petaja; to Wilfred B. Talman and Helen V. Sully); the Leah Bodine Drake omnibus; the Clark Ashton Smith bibliography and a volume of the letters of Smith and August Derleth; the three-volume edition of Arthur Machen's collected fiction; and much else besides can be expected. There will also be a slim volume of stories by the late W. H. Pugmire, which I have entitled An Imp of Aether. I am already up to 280 published titles, and it is a frightening thought that I may actually hit 300 before the end of the year.
As for my own Sarnath Press, I continue to issue volumes of Mencken's essays and journalism (thirteen have been published to date). In this venture I have been substantially assisted by several librarians at the Enoch Pratt Free Library in Baltimore, especially Vincent Fitzpatrick, the curator of the H. L. Mencken Collection. Another volume that I am contemplating, out of sheer egotism, is an omnibus of my interviews. I have given many, many interviews over the years, most of them via email in which I have typed out my responses in a Word file. So I have the texts of these interviews ready to hand. But I have a suspicion that I have ended up saying the same things over and over again, so the utility of such a volume is highly questionable.
The next issue of Dead Reckonings (#25) will include my review of James Machin's Weird Fiction in Britain 1890–1939 and also an extensive interview of me by editor Alex Houstoun concerning my treatise 21st-Century Horror. I think the issue (theoretically dated Spring 2019) is already a bit late, so let's hope it will appear soon. Spectral Realms #11 (Summer 2019) is nearly finished, as is the Lovecraft Annual for this year.
I was thrilled to spend some time in Auburn and Placerville, California, and look up some of the Clark Ashton Smith sites in the area. I had come down to participate in a showing of Darin Coelho Spring's superlative documentary on Smith, in which I appear. This film was showed on Friday, April 26, at the Auburn State Theatre—but I had come on Wednesday, along with Derrick Hussey, and we were both put up in Darin's spacious home.
On Thursday, we made an exhaustive tour of the CAS sites. This included his birthplace, which had been built by his father and where he lived for about the first seven years of his life. But, sadly, the house was recently vandalised, with many windows being shattered and even some parts of the interior being damaged. Nonetheless, I took a photo of it with my phone: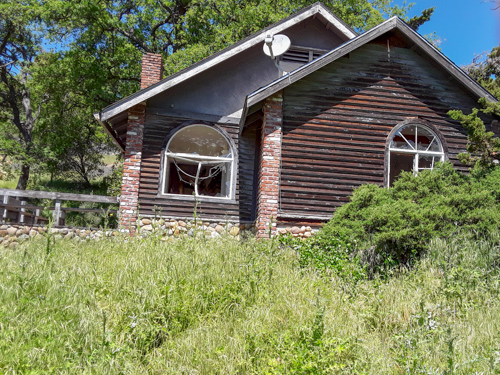 Clark Ashton Smith's birthplace in Auburn, California.
Next I was taken to the little schoolhouse (technically in the community of Long Valley) where Smith attended grammar school: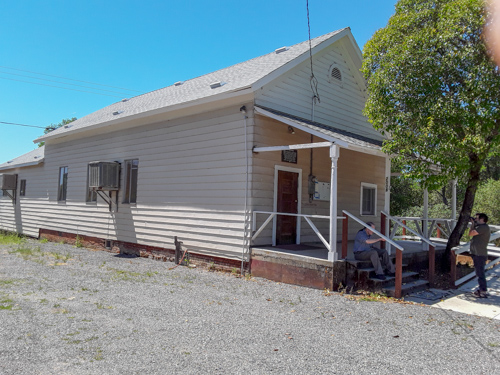 The schoolhouse where Clark Ashton Smith attended grammar school.
This school was built around 1890 and is now preserved by the Placer County Historical Society.
Smith only attended a single day of high school, so he was largely self-taught. He apparently spent a great deal of time at the Auburn Public Library, one of the many libraries built by funds provided by Andrew Carnegie. The building still stands, although it is not used as a library anymore: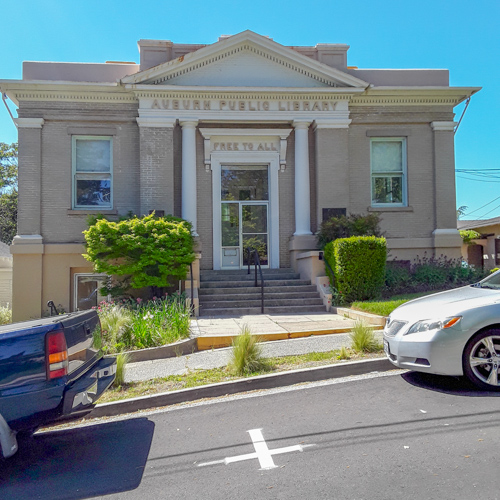 The former Auburn Public Library where Clark Ashton Smith educated himself.
Auburn itself is now coming to recognise Smith as a notable resident. There is a street where such celebrities (most of them being either sheriffs or outlaws!) are now heralded with star-shaped emblems on the sidewalk, and Smith now has one: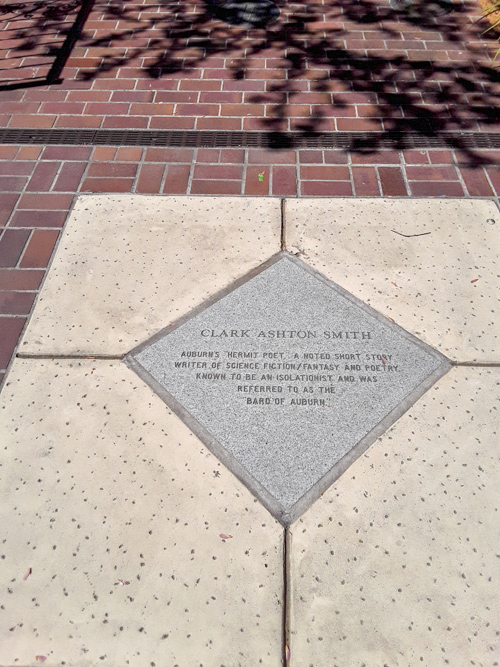 The sidewalk plaque commemorating Clark Ashton Smith.
The emblem curiously states that Smith was an "isolationist" (i.e., a recluse). A more distinguished plaque appears on the current Auburn Public Library: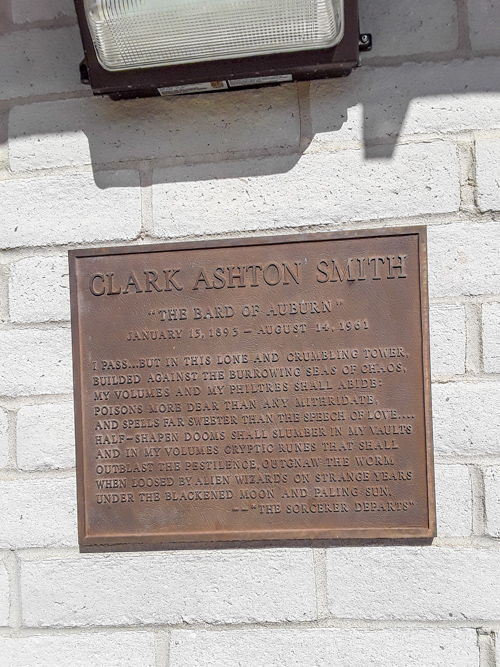 The plaque commemorating Clark Ashton Smith at the Auburn Public Library.
But the most touching memorial to CAS appears in Centennial Park, where a boulder rests above CAS's ashes and a plaque has been placed in front of it: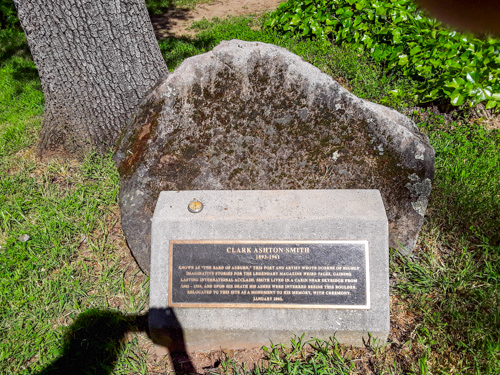 The plaque commemorating Clark Ashton Smith and the stone where his ashes were buried.
All in all, it was a wonderful visit—made more interesting by lively discussions with other such notables as Ashley Dioses, K. A. Opperman, Scott Connors, Ron Hilger, Charles Schneider, and others. And, of course, Darin and his family were models of hospitality and consideration.
The documentary was fairly well attended and very well received, and a few of us who appear in it (including Cody Goodfellow and the artist known as Skinner) conducted a Q&A session afterwards. Skinner presented me with a delightful pop-up book featuring Lovecraftian entities! Just the thing to inculcate your infant into the world of Lovecraftian terror. This is called The Necronomicon Pop Up Book (https://www.necronomiconpopup.com/), and it is well worth getting.
On to other matters …
Necronomicon Press is officially taking advance orders for my H. P. Lovecraft Cat Book, which comes to 156 pages and features tales, poems, essays, and extracts from letters where HPL discusses his favourite species (https://necropress.com/the-h-p-lovecraft-cat-book/). I'm pleased to noe that it will appear in both a limited hardcover edition as well as a trade paperback edition. The best features, of course, are the wondrous and exquisite illustrations by Jason C. Eckhardt, who (along with HPL and myself) is also a devotee of felines.
For those of you in Rhode Island, the Hearthside House Museum in Lincoln is planning a "Meet H. P. Lovecraft" session on May 5 (https://www.hearthsidehouse.org/lovecraft). Lincoln is the site of Quinsnicket Park, where Lovecraft was fond of venturing for relaxation and to absorb the natural beauty of the region. His early poem "Quinsnicket Park" (1913) attempts to capture his fondnes for the area. Don't miss this event if you are within striking distance of it!
In terms of my own work, I have issued an anthology of writings on atheism and freethought, Advocating Atheism, through my Sarnath Press imprint. This book consists of the 38 items I included in the "Classic Reprints" section of the American Rationalist during my editorship (2011–17). Among the notable writers are Thomas Henry Huxley, Ambrose Bierce, H. L. Mencken, Bertrand Russell, and Thomas Paine.
I now see that The PS Book of Fantastic Fictioneers is finally close to publication by PS Publishing in the UK (https://www.pspublishing.co.uk/the-ps-book-of-fantastic-fictioneers-hardcover-edited-by-pete-von-sholly-4806-p.asp). This immense two-volume compilation presents a series of essays on notable authors of weird and speculative fiction (including several filmmakers and contributors to other media), all lavishly illustrated with interesting documents and other items. I contributed four or five essays. This project has long been in the works, and I am gratified to see it finally appear.
A final reminder that the memorial for Wilum Pugmire will be on May 4 at the Wedgwood Community Church (8201 30th Avenue NE) here in Seattle. It should be a fine event. A week later, my choir will give the first of two performances of its spring concert, including the world premiere of my own little composition, "Sunset" (based on the poem by Lovecraft): http://www.nwchorale.org/. Here's hoping you can attend either this concert or the one on the 18th.
The day after the second concert…I head to France! More on that later.
The outpouring of grief spurred by Wilum's passing seems unabated. I myself have received many messages of condolences from people both known and unknown to me, and I am grateful for them all; I apologise if I have not made individual replies to some of these messages. Meanwhile, I can report a number of developments designed to keep Wilum's memory alive.
We are planning a memorial event (we will not call it a service) on Saturday, May 4. That may seem a long time after his passing, but we hope to commemorate his life rather than his death; and as his birthday was May 3, this date seems appropriate. We are contemplating renting a public space for the event, depending on how many people wish to attend. So I would be grateful if interested persons could contact me, Mary, or Greg Lowney, so that we can gauge how big a space we may need.
Brian Keene recently posted a podcast full of tributes to Wilum. I was happy to allow Brian to read my last blog on the podcast (http://thehorrorshowbk.projectentertainment.libsynpro.com/w-h-pugmire-remembrance-the-horror-show-with-brian-keene-ep-214). No one needs to be reminded that Brian and I have not exactly gotten along lately, but an event like Wilum's passing sometimes brings people together, and I responded eagerly to Brian's cordial invitation to participate in the podcast.
Many people who know Wilum only through his weird fiction are unaware that he was prominent, even if only locally, in several other realms. In particular, his role as a devotee and promoter of punk rock in the 1980s has been widely recognised. His fanzine, Punk Lust, was highly influential in promoting his favoured musicians and in eliciting discussion of the punk rock movement; in those pre-Internet (and pre-computer) days, I recall him telling me how he diligently assembled each issue in a manner not at all dissimilar to fanzine editors dating back to the 1930s. I also recall seeing an extensive article on Wilum in the Seattle Post-Intelligencer in 1988, and Leigh Blackmore has recently posted this piece ("GHOST WRITERS: Seattle's horror-fiction authors find our region's gloomy days nourish their creative spirits", Seattle Post-Intelligencer, October 30, 1988, page K 1).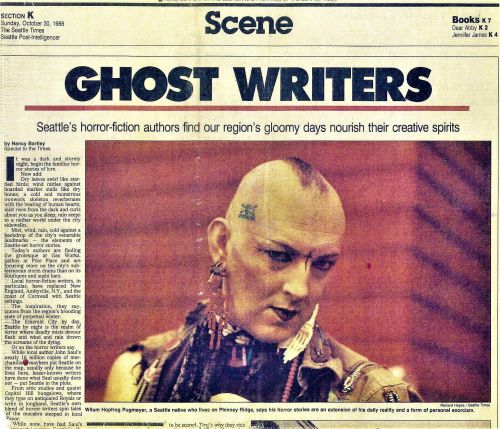 "Ghost Writers" in the Seattle Post-Intelligencer of October 30, 1988.
More recently, an article in the Seattle Review of Books mentions Wilum frequently in his role as a punk rock advocate: https://www.seattlereviewofbooks.com/reviews/punk-snot-dead/.
I am doing my humble part in the perpetuation of Wilum's work. It appears that I will be named his literary executor, in accordance with his wishes. Already I have received inquiries from a publisher in Spain interested in issuing one or more volumes of Wilum's tales; as soon as my executorship is legally established, I will sign agreements with this publisher and any others who are interested. I will not accept any pay for this work, instead forwarding all revenues to Wilum's surviving sister, Holly White.
Wilum wished me to take possession of his personal library. I am in the process of doing so, but I do not wish to profit from this material. Instead, working with Holly and Greg Lowney, I will at some point arrange a sale of the books in his library, with all the proceeds going to the John Hay Library of Brown University so that it may purchase Lovecraft manuscripts and letters. I believe Wilum would be pleased by this. Wilum had an impressive collection of Arkham House books along with books on many other subjects (notably Shakespeare, Henry James, and Oscar Wilde). It may take us some months to catalogue all these books and prepare a list for sale, but we will keep you posted on developments.
I managed to complete the choral setting of Lovecraft's "Continuity" that I had begun working on some time ago. It is quite a bit longer than my setting of Lovecraft's "Sunset" (which my choir is rehearsing for our upcoming performances on May 11 and 18), and I think it came out well. It is dedicated to Wilum. Here is the first page of the score: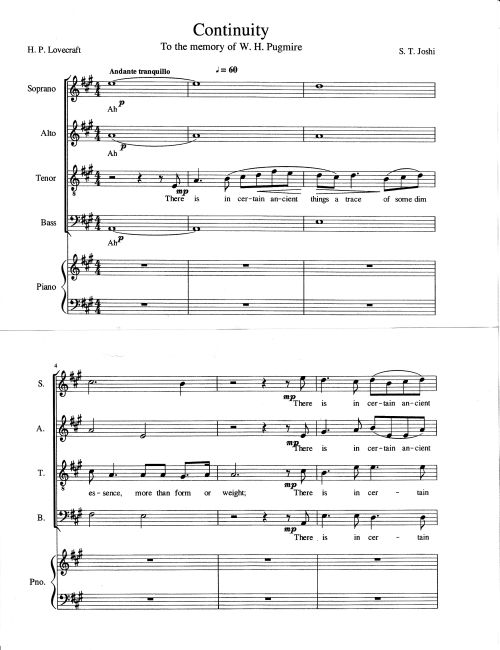 The first page of S. T. Joshi's "Continuity".
I still need to refine it considerably with various articulations, and I am hoping my choir might perform it for its Christmas concert in December.
Meanwhile, I am attempting to carry on with my own work as best I can. I surprised myself by completing a short detective novel, Honeymoon in Jail, featuring Lovecraft and Sonia as the detectives. I had begun this work four years ago (my computer file reports that the file was created in March 2015), but I had put it aside after writing about 15,000 words, thinking that it was not going well. Recently I re-read this portion and found that it seemed to have some promise, so I managed to finish the work. It is quite a short novel (just over 50,000 words). Mary and Jonathan Thomas (perhaps not entirely impartial judges) both seem to like it, and I offered it to Sam Gafford's Ulthar Press, and he promises to get it out sometime next year.
PS Publishing finally seems to be moving on some of my long-delayed projects there, including my anthology Apostles of the Weird and my novella Something from Below. The latter will be illustrated by John Coulthart, the immensely talented artist whose work I have been admiring since I first saw it in the 1980s. PS is also sitting on other books (The Best of Black Wings, His Own Most Fantastic Creation [the anthology of stories using Lovecraft as a character], and my revised study of Ramsey Campbell). These books will, I trust, appear in due course of time.
I now have two copies of my 80 Years of Arkham House to sell, and I am happy to offer them for $15 each.
Scott Bradfield continues to do his part in promoting authors of interest to us. A recent piece in the Los Angeles Times on literary landmarks around Big Sur in central California makes numerous references to Clark Ashton Smith and George Sterling: https://www.latimes.com/books/la-ca-jc-big-sur-literary-destinations-20190329-story.html. Scott also plans to promote my forthcoming edition of Arthur Machen's collected fiction in some appropriate venue, perhaps in the UK.
The winter of 2018–19 was unusually severe here in Seattle. In particular, in early February we suffered an unprecedented series of heavy snowstorms that paralysed the city. We rarely get snow, and the city is ill equipped to deal with it. Most of us were merely inconvenienced or housebound, but Wilum's fate proved to be more severe.
He went into the emergency room in mid-February, complaining of chest pains and difficulty breathing. He was diagnosed with pneumonia. That didn't sound too bad, but we were concerned—and frustrated—that he didn't seem to be improving as quickly as he should have been. My wife, Mary, and I visited him several times and were alarmed to see him gasping and unable to sit up for any length of time. And yet, he nonetheless did seem to get better, and we learned that the pneumonia had finally left him. But he continued to linger in the hospital—for weeks, then for more than a month. It appeared that the pneumonia had exacerbated the heart condition he had been suffering from for years (and for which, I'm sorry to report, he didn't take his medications quite as diligently as he should have).
At some point during that dreary month at Harborview Medical Center, he came to understand that the end had come upon him. He faced this realisation with what I thought was incredible grace and quiet resolve. He said that, a few weeks short of his 68th birthday, he had lived a full, rich life and had accomplished many of the literary goals he had set out for himself. And who can deny that?
By late March he decided that he would prefer to spend his last days at home, surrounded by his family, friends, and especially his beloved pets (which numbered six cats and two dogs). I spent much of the afternoon of Monday, March 25, with him, and he was indeed surrounded by some of the people (and there are many) who meant so much to him. I was present when, in accordance with his own wishes, his sister Holly turned off the heart pump that was largely keeping him alive. We had been told that this act might result in his death within minutes; but in fact he lingered for about ten hours, passing away in the wee hours of the morning of March 26.
And yet, I do not wish to speak of his death but of his life. I am no doubt one of many who regard him as one of the kindest, gentlest, most tolerant and generous human beings to have ever walked the earth. I know that the feuding that is so seemingly endemic to our social media culture saddened and dismayed him, and I take responsibility for contributing more than my share of abuse, insult, and billingsgate.
Many individuals knew him far longer than I did, but I like to believe we gained a special rapport because of our mutual devotion to H. P. Lovecraft. Wilum was reluctant to speak of himself, but he often regaled us with how he discovered the dreamer from Providence while conducting missionary work for the Mormon church, to which he remained devoted (in spite of the church's own cruel prejudice—now only slightly moderated—against gays and other groups). While dodging bullets and bombs in Northern Ireland in the early 1970s, he stumbled upon a paperback of Lovecraft's tales and was immediately captivated.
He wrote for years, even decades, in obscurity—but his creative work was an act of love, not commerce, just as it had been for Lovecraft. He was as surprised as any when, after so many years, he gained a following and saw his work published far and wide. He was tickled when, only a few months ago, a German edition of his tales appeared.
He and I became close when I moved to Seattle from the East Coast in the fall of 2001. He would often stop by at my house in the university district, on his way to or from the Mormon temple nearby. Later, Mary and I would often have him over for dinner, and we were pleased at how much relish he took in the dishes she offered (and why not?—she is an excellent cook). In particular, we enjoyed sharing with him the large Virginia ham that Derrick Hussey would habitually send to me as a Christmas present.
He was also a central figure in our local "gang" of Lovecraftians. Although his native shyness made him a largely silent participant in our gatherings, he would occasionally add a charming anecdote or make some other remark that displayed both his shrewdness and his humanity.
One of the greatest thrills of his life was visiting Providence in 2007, where he could at last walk in the footsteps of his literary master. That trip inspired dozens of tales, including some of his best. He attended the H. P. Lovecraft Festival in Portland as often as his health would allow, although later admitting that such trips (including one that he took just last year) overtaxed him and probably worsened his heart condition. But at least some of his many friends and devotees had a chance to meet him in person as he sat placidly on a bench outside the Hollywood Theatre and spoke a kind word to all and sundry.
We disagreed on several subjects, but that did not lessen our bond. As an atheist I was bemused by his Mormon faith; and part of the tranquillity he exhibited at the end was inspired by his firm belief that, after his transition out of this life, he would meet all the people who had meant so much to him—not just friends and family members but the great literary figures (Shakespeare, Henry James, Edgar Allan Poe, Oscar Wilde, and Lovecraft himself) whom he idolised. If that belief gave him comfort in his final hours, who has the right to deny it to him?
This is not the place for an evaluation of Wilum's literary work. Impressive as that work is, it is the human being I care to remember. When Lovecraft himself died, tragically early, there was an outpouring of grief just as there has now been for Wilum; and a longtime friend, Charles W. Smith, summed up his sense of closeness to Lovecraft by the simple words, "He was my friend." I am one of many who can consider themselves lucky to have been Wilum's friend. The world is a little poorer without him.
I have not felt much inclined to write a blog lately, chiefly because of the grave illness of my friend Wilum H. Pugmire. Mary and I visited him in the hospital several times (he was there for more than a month), and also paid him a visit a few days ago, when he chose to come home. Otherwise, I am trying to carry on as best I can, and I feel that Wilum himself would wish me to do so.
The latest Sarnath Press title is a thorough revision of Sixty Years of Arkham House (1999), now titled Eighty Years of Arkham House. This version brings the book up to date by including all publications by Arkham House (and its subsidiary imprints) down to 2012 (no book has appeared since that date). Since it seems unlikely that Arkham House will ever issue another book again, I trust this edition may be regarded as a reasonably definitive bibliography (and index) of the publications of this legendary small press. I will have a few copies of this book to sell for $15.
Another project that has inspired me of late is a push to issue the bibliography of George Sterling that Alan Gullette and I (with substantial assistance from David E. Schultz, although he is not listed as a co-author) assembled some years ago. It proved unfeasible to issue the compilation in conjunction with my edition of Sterling's Complete Poetry (2013), and so I thought I would simply get it out from Sarnath Press. But Derrick Hussey has offered to issue it this summer or fall from Hippocampus, and I have readily assented. (I trust Alan will also be in agreement, although as of this writing I have not heard from him on the matter.) I do hope the bibliography leads to further work on Sterling, even though there seems to have been little criticism of him in the past decade or so. Indeed, I myself am now slowly wrapping my mind around the prospect of writing a detailed biography of Sterling, perhaps as the chief figure of the bohemian circle he gathered around himself (and which included such figures as Jack London, Mary Austin, Upton Sinclair, and many other luminaries—all apart from Sterling's association with Ambrose Bierce).
I am in receipt of several LPs from Cadabra Records that feature liner notes that I have written. These are: Robert W. Chambers's The Yellow Sign (read by Anthony D. P. Mann); Lovecraft's Dagon, The Cats of Ulthar, and The Music of Erich Zann; and Lovecraft's The Call of Cthulhu (both of these read by Andrew Leman). See Cadabra's website (http://www.cadabrarecords.com/) for these and other interesting items.
Some very tempting items from Hippocampus Press are forthcoming. Two projects that have been in the works for many years now seem on the verge of publication: T. E. D. Klein's Providence After Dark (a massive collection of his essays and reviews), and Matt Cardin's To Rouse Leviathan (a volume of his collected fiction). I initially assisted Ted Klein in assembling his nonfiction some years ago, but lately he has taken the project in hand and added a number of pieces of which I was unaware. I will not be listed as editor of the book, but I may add a brief introduction providing an overview of the contents. Cardin's volume is a rich storehouse of short stories and novellas inspired by Lovecraft, Ligotti, and other writers, but infused with Cardin's own distinctive vision.
I am working hard on editing Ambrose Bierce's letters, a project that will extend to three volumes, and which the luckless Derrick Hussey will probably be obliged to publish under the Hippocampus Press imprint—although that may not happen until 2020 or even 2021. There are a number of tough issues that I may not be able to resolve without a trip to various archives in California, and I'm not sure when I will be able to schedule such a trip. But I am committed to this project, on which I have been working off and on (mostly off) for more than two decades.
A trip to California is indeed in the offing, but for the purpose of attending a showing of the Clark Ashton Smith documentary in Auburn on April 26. Derrick Hussey will come in from New York, and other luminaries—including, of course, the filmmaker himself, Darin Coelho Spring—should be in attendance. It is good to see Smith's hometown finally acknowledging his importance. I hope to see whatever Smith-related sites there may be in Auburn.
A colleague has notified me of a notable indication of Lovecraft's ascending fame: an adaptation of The Case of Charles Dexter Ward on BBC radio (https://www.bbc.co.uk/programmes/p06w5zwg). I have not listened to any episodes of this item, but I am confident it is well done.
I have managed to write a few more "grammar points," including my two chief bugbears (the misuse of "like" for "as" or "as if"; and the erroneous "of" after "all"), so please consult that page for the new entries.
It is with some trepidation that I announce the appearance of yet another sheaf of books and magazines that I have written or edited. I pity the pocketbooks of my devoted readers! Some of these items have been out for some time, but I have only now received copies.
First up are two magazines from Hippocampus Press, Dead Reckonings #24 (dated Fall 2018) and Spectral Realms #10 (Winter 2019). The former contains my joint review of two of Ramsey Campbell's recent books, By the Light of My Skull (a story collection) and The Way of the Worm (the final instalment of his spectacular Daoloth trilogy), as well as an essay on Adam Nevill (a somewhat condensed version of the chapter on him from 21st-Century Horror). The issue of Spectral Realms contains, in addition to the usual array of splendid poetry, a complete index to all ten issues. I am happy to offer these items for $5 (Dead Reckonings) and $10 (Spectral Realms), respectively.
In addition, my long-awaited edition of Théophile Gautier's The Mummy's Foot and Other Fantastic Tales is out from Hippocampus. The book is dated 2018 but, I believe, only appeared last month. It is a whopping 418 pages and contains, in addition to the complete contents of One of Cleopatra's Nights and Other Fantastic Romances (as translated by Lafcadio Hearn), three substantial novellas—Avatar (translated by Edgar Saltus), Jettatura, and Spirite (the latter two translated by F. C. de Sumichrast, who translated the totality of Gautier's fiction in a multi-volume edition in 1900–03). I have numerous copies of this book and can offer them at $15 each.
Last (and probably least), I have issued through Sarnath Press my own collected mystery and horror fiction under the title The Recurring Doom: Tales of Mystery and Horror. This fat (432 pp.) book contains my two short detective novels, The Removal Company and Conspiracy of Silence (featuring my hard-boiled detective from the 1930s, Joe Scintilla), a detective novella, "Tragedy at Sarsfield Manor" (whose initial draft was written while I was at Brown, in 1979), along with six short stories. This is, of course, not the entirety of my fiction writing: it does not include my novel The Assaults of Chaos (2013) nor my forthcoming novella Something from Below (due out soon, I trust, from PS Publishing). In addition, it does not include another work I have recently written, but which I will not discuss at this time.
I have exactly two copies of The Recurring Doom to sell, and am prepared to let them go for $20 each. To sweeten the deal, I will throw in the new Dead Reckonings at no charge and also offer the new Spectral Realms for an additional $5. Indeed, I will make this offer apply to purchasers of the Gautier book book as well (but please be aware that I have only four copies of Dead Reckonings available).
And I am now able to make another momentous announcement: I have spent the last several months preparing a complete edition of the fiction of Arthur Machen. This will appear in a three-volume trade paperback edition from Hippocampus Press very shortly, perhaps within two or three months. I have just received a set of advance review copies of this set. This edition contains all four of Machen's novels (The Chronicle of Clemendy, The Hill of Dreams, The Secret Glory [with the inclusion of the final two chapters, which had been excised when the novel was first published in 1922], and The Green Round), along with all his great weird short fiction ("The Great God Pan," "The White People," etc., etc.) all the way down to his last published story, "Ritual" (1937). I have been very scrupulous in the prepration of the text, as I have attempted to ascertain Machen's preferences in spelling, punctuation, etc. (largely based on the manuscript of those two final chapters of The Secret Glory, which I obtained from Yale University's Beinecke Rare Book and Manuscript Library decades ago). And I have actually found one (very short) story that has never been reprinted since its original appearance!
The edition will appear in conjunction with a fine anthology of Machen criticism edited by Mark Valentine and Timothy J. Jarvis. It will be another stellar addition to Hippocampus's line of weird fiction criticism, to join the volumes devoted to M. R. James, J. Sheridan Le Fanu, and others.
With this Machen edition, I have now edited the complete fiction of Lovecraft, Ambrose Bierce, M. R. James, Arthur Machen, and a host of lesser writers. (It is impracticable to prepare a complete edition of Lovecraft's two other "modern masters," Algernon Blackwood and Lord Dunsany, given their enormous output; but I hope to get out more editions of their work in due course of time.)
Another book that will appear soon from Hippocampus is Leah Bodine Drake's The Song of the Sun—essentially, her collected poetry, fiction, essays, and even a selection of letters (to August Derleth, Anthony Boucher, and others). This enormous volume, extending to about 600 pages, was largely edited by David E. Schultz, and I have been something of a freeloader on the book, to the point where I wonder whether my name should even be listed as co-editor. In any case, it will be a beautiful hardcover book—although it will probably not be available until the summer. But advance review copies are now going out.
Another book that should appear soon is Eccentric, Impractical Devils—the whimsical title we have affixed to the collected letters of Clark Ashton Smith and August Derleth. Recently a previously unknown batch of Derleth's letters to Smith came to light, causing us to refashion the book almost in its totality—and forcing me to re-index nearly the whole of the book. Gawd, what a nightmarish task! But the job is done at last, and I hope the book will emerge soon—along with the huge Clark Ashton Smith bibliography that Scott Connors, David E. Schultz, and I have edited.
I am happy to announce a new page of this website—devoted to "Grammar Points." As readers of my recent articles and reviews have observed, points of grammar, style, and punctuation have increasingly come to dominate my interest, and I find a dismaying inattention to such matters in contemporary writing. I am aware that almost anything goes in today's lax climate; and, as a literary critic, I am also aware that writers are allowed the liberty of bending of breaking the formal rules of grammar for specific purposes. But it strikes me that many of today's violations of standard grammar are due to sheer ignorance and therefore can only be deprecated. My initial grammar points are somewhat minor and random, as I do not yet have the time to devote to more complex issues (in particular, my two chief bêtes noires—the misuse of "like" for "as" or "as if" and the erroneous insertion of "of" after "all"); but I will get to these and other points in due time, so please continue checking this page for updates!
This blog will be rather short, for a variety of reasons—not the least of which is that here in Seattle we are dealing with an unprecedented succession of snowstorms that have paralysed the city. I myself have had to shovel snow on several consecutive days—and I doubt that I have shoveled more than four times total in all the years I have lived in this otherwise temperate city. Driving is incredibly treacherous, especially for those of us who live on side streets that have no hope of getting ploughed by the meagre resources this city has for such a purpose.
But I am happy to announce that the much-delayed issue of Weird Fiction Review (the ninth annual issue) is now out from Centipede Press (http://www.centipedepress.com/anthologies/wfreview9.html). I see that the publisher is currently offering the issue for a bargain price of $22, so I will undercut him by offering my four spare copies for $20 on the usual terms. It is a splendid issue, with all manner of stories, articles, and artwork, and featuring the usual splendid Centipede Press design. This will be the last issue I edit, as the publisher will now enlist a rotating series of guest editors for each successive issue.
Dark Regions Press informs me that the ebook version of my anthology A Mountain Walked is being promoted on a special sale by BookBub, with a substantial reduction in price for both the US ($1.99) and UK (£1.99) editions. Here is the link to the US edition: https://www.amazon.com/Mountain-Walked-Neil-Gaiman-ebook/dp/B018829F8E; and the UK edition: https://www.amazon.co.uk/Mountain-Walked-Neil-Gaiman-ebook/dp/B018829F8E.
A welcome book that has come in recently is Frank Coffman's outstanding poetry volume The Coven's Hornbook and Other Poems (Bold Venture Press, 2019). Here is the publisher's web page for the book: https://boldventurepress.com/the-covens-hornbook-other-poems/. This substantial collection (254 pp.) is well worth obtaining by any devotee of weird poetry. A number of the poems in it have appeared in Spectral Realms.
Another book that has made its way here is The Best of the Scream Factory (Cemetery Dance, 2018: https://www.cemeterydance.com/the-scream-factory.html). This weighty hardcover volume contains my article "How Bad Are Lovecraft's Revisions?" (from the Autumn 1992 issue). Needless to say, it has many other items of interest.
More later, when the snow melts away!
I am happy to announce receipt (at last) of copies of Ave atque Vale: Reminiscences of H. P. Lovecraft, an immense (502 pp.) compilation of Lovecraft memoirs assembled by David E. Schultz and myself and published by the revived Necronomicon Press (https://necropress.com/ave-atque-vale-reminiscences-of-h-p-lovecraft/). Comparisons will inevitably be made with Peter Cannon's outstanding volume, Lovecraft Remembered (Arkham House, 1998); we have included most of the material in that volume (some items were omitted for copyright issues; others for editorial reasons) and included several newly discovered memoirs not included in Peter's volume. The new book is issued in both a limited hardcover and a trade paperback edition, the latter costing $29.95. I have several copies of the paperback and will be happy to let them to go interested customers for $25.00.
For those who are curious as to the meaning and pronunciation of the book's title, I can state that the phrase is Latin for "hail and farewell" (atque is somewhat more emphatic than et, although both mean "and"). As for pronunciation—well, this varies depending on whether the phrase is used in prose or in poetry. In prose, it would be rendered something like: "AH-veh [not -vay] aht-queh VAH-leh." But in poetry, the second syllable of the first word is elided, because it is followed by a word beginning with a vowel. Hence it would be rendered as "AHV' aht-queh VAH-leh." Its most famous usage occurs in one of the most poignant lines in the entire range of Latin poetry—Catullus' poem 101, an elegy on his dead brother: "atque in perpetuum, frater, ave atque vale" (and for all eternity, my brother, hail and farewell). (Note here that the second syllable of the first "atque" is also elided—i.e., "atqu'in"). I can never read that line without choking up—just as I can't read the final line of Clark Ashton Smith's elegy on Lovecraft ("And from the spirit's page thy runes can never pass") without choking up.
Another book that has emerged is my Development of the Weird Tale, another publication from Sarnath Press. (See the Sarnath Press page for a link to the Amazon entry.) The table of contents of this collection of my miscellaneous essays on weird fiction—ranging from the work of Mary Shelley to the films of Guillermo del Toro—can be found in my blog of September 10, 2018. I will be ordering no books to sell to customers, so people will have to purchase directly from Amazon.
I am in receipt of a new book (although it appears to have emerged in late 2018), Edgar Allan Poe's The Masque of the Red Death and Others, illustrated by Jason Eckhardt and published by Sam Gafford's Ulthar Press, 2018 (https://ultharpress.com/). I wrote the introduction to the book. Of course, the book is noteworthy because of Eckhardt's spectacular illustrations, which evoke all the terror and weirdness of Poe's text. The list price of the book is $11.95. I have exactly one spare copy that I will be happy to let go for $10.
I was much engaged by two recent podcasts by noted writer and critic Scott Bradfield, available on YouTube. The first (https://www.youtube.com/watch?v=thzC1LDdPw4) discusses a number of my Penguin editions—M. R. James, Blackwood, and others. The other (https://www.youtube.com/watch?v=hPhB5k6Cs8w) is interesting in presenting the impressions of a reader relatively unfamiliar with Lovecraft—and of one who has now reassessed his opinions of the Providence writer and found him much more worthy of consideration than before. The amusing thing is that in these videos Bradfield actually pronounces my last name correctly, but (as so many others have done) flubs on the proper pronunciation of "Cthulhu" (also of "Dunsany"). I have, in my smart-aleck way, pointed out these errors, and Scott promises to correct them in a future podcast.
Another item that has drifted over here, this time from across the Atlantic, is The Green Book, an exceptionally well-produced periodical devoted to "Writings on Irish Gothic, Supernatural and Fantastic Literature," edited by Brian J. Showers. Issue 11 (Bealtaine 2018) has numerous contributions about Lord Dunsany, including Darrell Schweitzer's "How Much of Dunsany Is Worth Reading?" (first published in Studies in Weird Fiction, Fall 1991), Martin Andersson's "Lord Dunsany and the Nobel Prize," and Mike Carey's "Appreciating Fifty-One Tales." The issue has other pieces by Richard Dalby, Reggie Oliver, David Longhorn, and several others. For ordering information, see the publisher's website: http://swanriverpress.ie/greenbook.html.
I have been informed by Jerad Walters of Centipede Press that Weird Fiction Review #9 is at the printer, hence I imagine it will be ready soon. The issue is of course quite late, as it should have come out in the fall of 2018. But it will be well worth waiting for! This will be the last issue under my editorship, as the publisher now wishes to have rotating guest editors for each subsequent issue.
Otherwise, work continues here at its usual hectic pace. I am working on all manner of projects … Lovecraft's Letters to Wilfred B. Talman and Helen V. Sully … a new edition of Samuel Loveman's Out of the Immortal Night (2004), with considerable new matter … the complete fiction of M. R. James … the Ambrose Bierce letters … and, of course, my ongoing series of Mencken's essays and journalism. Never a dull moment around here!
Mary and I had a most enjoyable holiday season, highlighted by a trip to Carmel Valley, Calif., to see my two sisters (Ragini and Nalini) and some members of their families. There was quite a haul in terms of presents, including some new slippers as well as sundry chocolates. But the choicest item was nothing less than some of the figurines of the U.S. Presidents that I had so fondly played with as a boy! Ragini found nine of these gents on eBay; I shall now have to find the rest.
Those who have read my memoirs will recall the passage in which I discuss this matter:
One very curious type of solitary play I devised for myself involved a set of tiny (about 2 inches high) porcelain figures of all the American presidents from Washington up to Lyndon Johnson. I have no idea how my mother obtained these objects, but they fascinated me from the start. The pedestals gave the dates of each president's term in office, so that to this day I know the entire sequence of all the presidents and the years in which most of them served.

But I went beyond merely absorbing dry information about these august figures. I began concocting games in which the presidents figured as players—notably what I called "Presidents' Baseball" and "Presidents' Football." For the former, I used a marble (I played with marbles quite a bit) as a (rather large, proportionately speaking) ball and used the pedestals to propel the ball crazily all across my room. (This was, I suppose, closer to kickball than baseball—but I didn't care about such a trivial detail.) I am astounded that I didn't break mirrors and other delicate objects in my room, but somehow I didn't.
I have subsequently learned that these presidents were given out by the local grocery store (I believe it was the IGA) in Urbana, Illinois. I now own nine of them: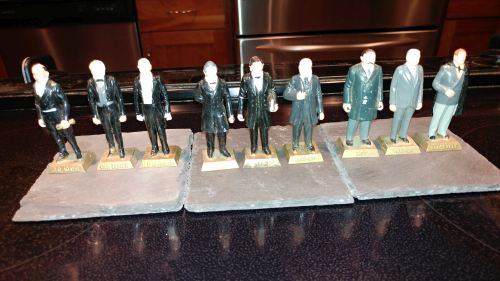 Nine U. S. Presidents
For those who are having a hard time making out the figures, they are (from left to right): John Quincy Adams, Martin Van Buren, William Henry Harrison, John Tyler, James Knox Polk, Chester Alan Arthur, William Howard Taft, Herbert Hoover, and Franklin D. Roosevelt.
In terms of work, I have now nearly finished my compilation of the weird tales of May Sinclair. I am currently reading some biographical and critical material on her for my introduction.
I am happy to announce the completion of His Own Most Fantastic Creation, an original anthology of stories using Lovecraft (or a Lovecraft-like figure) as a fictional character. Here is the list of stories:
| | |
| --- | --- |
| Death in All Its Ripeness | Mark Samuels |
| Worlds Apart | Donald R. Burleson |
| Witch's Ladder | Donald Tyson |
| How Could It Be Elsewise? | Richard Gavin |
| A Gentleman of Darkness | W. H. Pugmire |
| The Feverish Stars | John Shirley |
| The Basilisk | David Hambling |
| Captured in Oils | Simon Strantzas |
| I Left My Soul at Murder Castle | Kirk Sigurdson |
| Dreams Are Forever | Scott Wiley |
| A Meeting Beneath the Moon | Mark Howard Jones |
| The Return of the Night-Gaunts | Darrell Schweitzer |
| The Gilman Woman | Stephen Woodworth |
| In His Own Handwriting | S. T. Joshi |
| Avenging Angela | Jonathan Thomas |
I hope PS Publishing can get this book out late this year. My own story was scheduled to appear in my fiction omnibus, The Recurring Doom (due out later this year from Sarnath Press), but it fortuitously fit the theme of the anthology so well that I have placed it there.
I expect 2019 to be a productive year from me, if for no other reason than that I expect to self-publish as many as 12 books of H. L. Mencken's essays and journalism (2 per month). If you look at the Sarnath Press page, you will see that six of these volumes are already out, and I intend to get two more out this month. This will complete the eight volumes of his writings in the Smart Set, which will then be followed by miscellaneous magazine articles, prefaces and introductions to various books by others, and then the first of many volumes of his newspaper journalism. I don't imagine these books are exactly flying off the shelves, but I will take personal satisfaction in their appearance.
With the advent of the new year I expect Hippocampus Press to issue several books that have been slightly postponed: the Clark Ashton Smith bibliography; the compilation of the letters between Smith and August Derleth; Lovecraft's Letters to Family and Family Friends (a 1200-page book!); Letters to Wilfred B. Talman and Helen V. Sully; Letters to Donald Wandrei and Others; etc. etc. etc. In addition, there will be fiction volumes by Stephen Woodworth, John Langan, and perhaps others; poetry volumes by Jessica Amanda Salmonson and D. L. Myers; an immense assemblage of the writings of Leah Bodine Drake; and some projects that I am not at liberty to mention as yet. I pity the pocketbooks of my legions of fans!