I suppose it is old news by now, but I have been immortalised by Alan Moore in the twelfth and final issue of his graphic novel Providence (March 2017). I am identified by name, and I am wearing my patented black windbreaker. I confess that I have not followed the plot of this engaging work (I only own the first 5 issues), so I am not entirely sure why I am wandering about in the company of a naked lady (in a very pregnant state) and certain other individuals. But there I am.
The naked lady flatteringly identifies me as "the old world's foremost Lovecraft scholar." It becomes evident that Moore has read some of my work with care, for he puts into my mouth various utterances derived from my biography or critical studies. To wit:
"It had always troubled me that in Lovecraft's supposed dream stories, the various places are depicted as terrestrial locations, existing before human history. Then in the Dream-Quest they're suddenly in Dreamland." This is derived from my article "The Dream World and the Real World in Lovecraft" (Crypt of Cthulhu, Lammas 1983).
[In reference to the ending of "The Shadow over Innsmouth":] "The narrator's apparent embracing of his fate is Lovecraft indicating that his mind is changing, emphasising the horror." This comment (which I've made in numerous places) actually is taken from an observation that Maurice Lévy made in Lovecraft ou du fantastique (1972), which I translated as Lovecraft: A Study in the Fantastic (1988). Lévy writes: 'At the end of this slow evolution, this prodigious metanoia [alteration of mind], the abominable, the repugnant, the unclean have become not only natural but desirable. The fantastic here is perhaps not so much the physical transformation of the narrator as this extraordinary change of heart."
And so on. Moore did not notify me in advance, or seek my permission, to use me in his graphic novel, but there is no need for him to have done so. I suppose I am enough of a public figure that anyone can depict me or use my utterances in a work of fiction. It's not the first time!
If I am achieving some minimal modicum of fame, my collaborator David E. Schultz seems to relish his role as the Greta Garbo of Lovecraft studies. And yet, he did deign to give an interview to a Hungarian website that promotes Lovecraft: http://www.theblackaether.com/2017/03/23/david-e-schultz-interview/. The photograph of the two of us was taken in the back yard of his house in Milwaukee, when Mary and I visited a few years ago.
I am in receipt of a splendid book of poetry by Benjamin Blake, Standing on the Threshold of Madness (https://www.amazon.com/Standing-Threshold-Madness-Benjamin-Blake/dp/0995717311/). The author had solicited a blurb from me; and after reading the book in ms., I was happy to do so. I now see that he also managed to get a blurb from none other than Ramsey Campbell! So the book must be good. I urge all devotees of weird poetry to pick it up. A review of it will run in Spectral Realms #7 (Summer 2017).
When I'm not chained to my desk or watching reruns of The Beverly Hillbillies, I am singing in my choir, the Northwest Chorale. We are finally getting ready to perform Handel's spectacular oratorio Israel in Egypt (http://www.nwchorale.org). This should be a splendid event, and I hope that interested persons in the Seattle metropolitan area will make the effort to attend one of the two performances. The second one will be recorded, and a CD (or, more properly, a two-CD package) should emerge in due course of time.
I am reading proofs of my next book of H. L. Mencken's writings, A Saturnalia of Bunk: Selections from The Free Lance, 1911–1915 (Ohio University Press). I believe this book should be out sometime in the summer. It is a riot of pungent satire on all manner of subjects, ranging from the follies of politics to the horrors of religion to the Great War. The material is taken from Mencken's "Free Lance" column, which he wrote (with some breaks here and there) six times a day for four and a half years, totalling 1.5 million words. I managed to whittle that down to a book of about 100,000 words. Mary lent invaluable assistance at a late stage in proofreading the manuscript, finding all manner of typographical and scanning errors.
I am expecting copies of Nightmare's Realm any day now. I still have one copy available for purchase, if anyone wants to pick it up for $20.00. The signature sheets of the signed/limited edition have finally been signed by all the contributors (including the artist, Samuel Araya), so this edition should emerge from Dark Regions Press at some point in the future.
I have just heard that I will soon be receiving some copies of my newest all-original anthology, Nightmare's Realm (Dark Regions Press). I will have exactly four copies to sell to interested customers, at the discounted rate of $20.00 (the list price is $25.00). I am prepared to take advance orders for these copies at this time. Just as a reminder, here is the table of contents of the book:
Introduction by S. T. Joshi
Prologue: To a Dreamer by H. P. Lovecraft
The Dreamed by Ramsey Campbell
A Predicament by Darrell Schweitzer
Kafkaesque by Jason V Brock
Beneath the Veil by David Barker
Dreams Downstream by John Shirley
Death-Dreaming by Nancy Kilpatrick
Cast Lots by Richard Gavin
The Wake by Steve Rasnic Tem
Dead Letter Office by Caitlín R. Kiernan
The Art of Memory by Donald Tyson
What You Do Not Bring Forth by John Langan
The Barrier Between by W. H. Pugmire
Sleep Hygiene by Gemma Files
Purging Mom by Jonathan Thomas
The Fifth Stone by Simon Strantzas
In the City of Sharp Edges by Stephen Woodworth
An Actor's Nightmare by Reggie Oliver
Epilogue: Dream-Land by Edgar Allan Poe
Every story in the book is, in my judgment, sensational!
I can also mention that I have received copies of my second-newest book, The Stupidity Watch. It's quite literally a hell-raiser! If you ever want to see me lambasting the follies of religion and politics, this is the book to get. I still have some copies to sell for $15.00. You can also order copies (paperback and ebook) on your own from Amazon.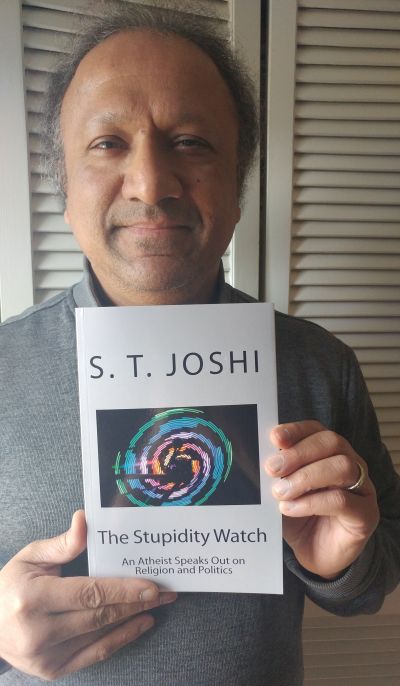 S. T. Joshi with his book The Stupidity Watch
I can also announce that I have provisionally completed my memoirs, What Is Anything? Memoirs of a Life in Lovecraft—at a whopping 135,000 words. And there may be more to come. I will continue to add to it throughout the course of this year, and will also need to insert discussions of certain events that I had overlooked when writing the first draft. But the book is essentially done.
Meanwhile, I am slogging through the index to Dawnward Spire, Lonely Hill: The Letters of H. P. Lovecraft and Clark Ashton Smith. The book is already 767 pages and will come close to 800 with the index in place. It will be published as a fine hardcover edition by Hippocampus Press, perhaps as early as June. It is difficult to describe the fascination of reading this massive batch of letters between two of the titans of weird fiction; it is only unfortunate that not every letter sent by the two writers to each other survives, creating at times frustrating gaps in the free-flowing discussion. But there is enough here to satisfy the desires of any Smith or Lovecraft devotee!
And Hippocampus is on pace to initiate an entire series of letters by Smith. First up on the agenda will probably be the letters between Smith and Donald Wandrei, along with those from Smith to R. H. Barlow. This book should emerge by the time of the NecronomiCon convnention this summer.
I have self-published a collection of my writings (essays, reviews, and columns) from the American Rationalist, under the title The Stupidity Watch: An Atheist Speaks Out on Religion and Politics (https://www.amazon.com/Stupidity-Watch-Atheist-Religion-Politics/dp/1544821646). The book is available both as a print book and as an ebook. This is the first official title of my own imprint, Sarnath Press, although I may someday republish my collection of reviews, Driven to Madness with Fright, under this imprint.
The book contains a sheaf of my pungent reviews attacking religion and religious apologists. I truly channel Bierce and Mencken in these killer reviews! (You can find some of them in the "Selected Writings" section of this website.) The second half of the book consists of my column, "The Stupidity Watch," which has run in every issue of the American Rationalist since I took over the editorship with the July/August 2011 issue. Here is the complete table of contents:
Preface
Introduction: Living in a Religious Society
I. Essays and Reviews

A Confession of Unfaith
What Apostates Have to Say
Circling the Wagons
Yearning for Paradise Lost
The Caspar Miquetoast Humanist
A Christian "Intellectual" Speaks
Religious Freedom or Religious Coercion?
Satan, Monsters, and Bad People
Guns, Guns, and More Guns
The Pious Fight Back
Republicans: An Endangered Species
Christianity and Complexity
The Problem of Islamic Extremism
The Beatification of St. Kim
Atheism, Christianity, and Insanity
The Rise and Fall of Christianity
Christianity and Free Enterprise
The Bible and Gays
Atheism in Classical Antiquity
In-Your-Face Atheism
Why People Convert
A Fitting Burial

II. The Stupidity Watch
I have ordered some copies and should get them soon. If people are interested in purchasing this book directly from me, they are welcome to do so; but I will have to charge a price ($15.00) slightly higher than the list price for the privilege. You can reserve your copy in advance, and I will mail them out when they show up here.
Other books are progressing. Dark Regions Press has sent out a press release for Michael Shea's Demiurge: The Complete Cthulhu Mythos Tales of Miichael Shea, which I edited. Here is the publisher's webpage about it: http://www.darkregions.com/press-release-demiurge-complete-cthulhu-mythos-tales-michael-shea. The book contains the title story (an unpublished novella that is indirectly Lovecraftian), along with the complete contents of Copping Squid and Other Mythos Tales (2009), along with several other stories. A splendid book overall!
Dark Regions Press has also sent out a press release about my Lovecraftian anthology The Red Brain: Great Tales of the Cthulhu Mythos (http://www.darkregions.com/press-release-red-brain-great-tales-cthulhu-mythos-edited-s-t-joshi). This will also be a humdinger, so order soon!
I have made tremendous progress on the writing of my Lovecraftian memoirs, What Is Anything? The book already stands at nearly 100,000 words, with about 20,000 more to go. I will probably continue to add to it into early 2018, so that it can be as up-to-date as possible. The book's overall outline is as follows:
Preface
1. From India to Illinois (1958–1968)
2. Indiana I (1968–1972)
3. Indiana II (1972–1976)
4. Brown (1976–1980)
5. Brown and Princeton (1980–1984)
6. Chelsea House I (1984–1990)
7. Chelsea House II (1991–1995)
8. New York (1995–2001)
9. Seattle I (2001–2005)
10. Moravia (2005–2008)
11. Seattle II (2008–2012)
12. Seattle III (2012–2018)
Epilogue
At a later date I'll come up with more interesting titles than these. So far I've already written the first eight chapters and am more than halfway through the ninth. Lots of ground to cover! I keep having to go back and fill in things that I'd forgotten to mention. I have (egotistically) not made as many mentions of my colleagues as I would have liked, but that may change as I go over the whole book at a later stage. I hope it will provide readers with at least a fraction of the entertainment it has provided me in writing it.
I still have copies of Gothic Lovecraft here and am prepared to let them go at an even greater discount from the list price: $35.00 for the trade edition and $65.00 for the signed/limited. Come and get 'em!
I see that Cadabra Records is soon to release its recording of Robert W. Chambers's The Yellow Sign. I wrote the liner notes for this LP. The cover art certainly looks appealing. I imagine I will eventually have some copies to sell to interested customers.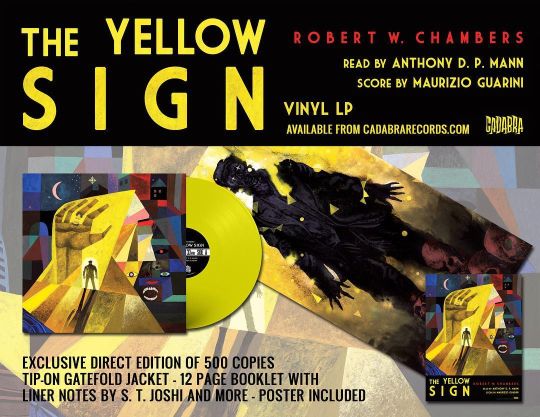 Cover of Cadabra Records' LP of The Yellow Sign
I have received some updates from Centipede Press about the many projects (ten of them, totalling twelve volumes) that I have assembled. I now hear that my Arthur Machen compilation, the first of the three new volumes of the Centipede Press Library of Weird Fiction, may appear around August. The immense Masters of the Weird Tale volume of Robert W. Chambers is due out in September, while a slim volume of D. H. Lawrence's weird tales is scheduled for October. The two-volume Robert Aickman edition may appear in November. Perhaps coming out sooner than any of these is a volume of John Metcalfe's complete weird tales. So some progress is being made! Other volumes (Bierce [Library of Weird Fiction], Stoker [Library of Weird Fiction], W. C. Morrow, Le Fanu, E. F. Benson) are still far off. I also assembled a second volume of W. H. Pugmire's stories, and that should be out this summer or fall.
Hippocampus Press is already gearing up for the NecronomiCon with an array of new publications. I have mentioned that my Varieties of the Weird Tale is due out soon, as well as my edition of Lord Dunsany's The Ghost in the Corner and Other Stories. I am currently compiling the index to the huge edition of the joint correspondence of Lovecraft and Clark Ashton Smith, to be titled Dawnward Spire, Lonely Hill. The book will be close to 800 pages. I have also gone over Jonathan Thomas's next story collection, titled Naked Revenants and Other Fables of Old and New England. We have also agreed to publish a Lovecraftian short novel written by W. H. Pugmire and David Barker, Witches in Dreamland, but I'm not sure this will be out by the convention. Many more publications will no doubt appear!
Things continue to hum along here in their usual hectic fashion. There finally seems to be some signs of a break in the logjam of my completed books (numbering nearly 30 at present). Hippocampus Press has announced the imminent publication of my volume of essays entitled Varieties of the Weird Tale (http://www.hippocampuspress.com/mythos-and-other-authors/nonfiction/varieties-of-the-weird-tale-by-s.-t.-joshi), announced for this month, and also of the edition of Lord Dunsany's uncollected and unpublished stories, The Ghost in the Corner (http://www.hippocampuspress.com/mythos-and-other-authors/fiction/the-ghost-in-the-corner-and-other-stories-by-lord-dunsany), which I compiled with the invaluable assistance of Martin Andersson; this book should appear in April.
I appear not to have announced that I have completed my treatise Varieties of Crime Fiction, which is now making the rounds of a few publishers. The final table of contents is as follows:
Introduction
I. The Golden Age

Dorothy L. Sayers: Lords and Servants
John Dickson Carr: Puzzlemeister
Margery Allingham: Murder, Gangs, and Spies
Philip MacDonald: Expanding the "Cosy" Mystery

II. The Hard-Boiled School

Dashiell Hammett: Sam Spade and Others
Raymond Chandler: Mean Streets
Ross Macdonald: Family Affairs

III. The Psychological Mystery

Margaret Millar: Scars of the Psyche
Patricia Highsmith: Guilt and Innocence
L. P. Davies: Powers of the Mind

IV. Some Contemporaries

P. D. James: The Empress's New Clothes
Ruth Rendell: The Psychology of Murder
Sue Grafton: Hard-Boiled Female

Bibliography
Index
I am so taken with some of these writers that I continue to read them in my spare time. However, that spare time may become much more limited soon, because I am contemplating writing a book called 21st-Century Horror, which will discuss some of the leading weird writers of our day—Caitlín R. Kiernan, Laird Barron, Jonathan Thomas, Michael Aronovitz, Jason V Brock, Kelly Link, Elizabeth Hand, Glen Hirshberg, John Langan, and others. In essence, this might constitute the third volume of my Unutterable Horror: A History of Supernatural Fiction, since I was only able to cover a few of these authors (and in a somewhat cursory manner) in that treatise.
Sean Moreland's anthology of criticism, The Lovecraftian Poe: Essays on Influence, Reception, Interpretation, and Transformation, is scheduled to be published later this year from Lehigh University Press. I wrote the foreword to the book. It contains some fine essays on Poe's influence on Lovecraft, including pieces by Michael Cisco, Robert H. Waugh, and John Langan; it concludes with an afterword by Caitlín R. Kiernan.
I have been informed that my anthology Black Wings I (2010) will appear in a French translation under the title Chroniques de Cthulhu (The Chronicles of Cthulhu). I cannot seem to find information on who the French publisher is, but I trust I will receive a copy of the book when it appears, so I will provide further data at that time.
The bulk of my time lately has been given to writing my "Lovecraftian memoirs"! The official title (so far) of this book is What Is Anything? Memoirs of a Life in Lovecraft. I have already written more than 45,000 words and am not even through my undergraduate years at Brown! I am frightened at how long this book may turn out to be. As it is, I am deliberately suppressing information on many personal matters and focusing on my work and my association with other Lovecraftians. But the story has a long way to go! This will presumably appear from Hippocampus Press around the time of my 60th birthday (June 22, 2018).
I am immensely proud to announce that I have received copies of David E. Schultz's landmark edition of Lovecraft's Fungi from Yuggoth: An Annotated Edition, just out from Hippocampus Press in hardcover. This book, quite literally decades in the making (I saw a draft of it when I first met David at Steve Mariconda's wedding in 1986), is just about the last word on this sonnet cycle. Not only does it contain the text of the cycle (with splendid illustrations by Jason C. Eckhardt for each sonnet), but it also features a reproduction of Lovecraft's handwritten manuscript and exemplary commentary on the poem by Schultz. The editor rightly recognises that the cycle was written at roughly the midpoint in Lovecraft's career, thereby summing up what had gone before and being a vanguard for what would come after. The book is distinctive in printing all type in a highly attractive (and readable) green type, and is also graced with a fine dust jacket with an evocative illustration by Eckhardt. This edition is currently being sold at Hippocampus for $45, but I am happy to dispose of my few spare copies for $40.
And I have now received copies of the beautiful signed/limited edition of Gothic Lovecraft. Copies of this edition are available for $70. I still have some copies of the trade edition available for $40.
Another item that has reached me is an anthology, Another Dimension: Tales in the Tradition of Twilight Zone and Night Gallery, edited by Angel McCoy (Wily Writers, 2016). This contains my article, "On Rod Serling's 'Clean Kills and Other Trophies,'" along with other articles by Joe Young and David Afsharirad, and stories by Gary A. Braunbeck, "Amber Bierce" (surely a pseudonym!), S. C. Hayden, and others. I have exactly one spare copy that I am prepared to let go for $10.
I have written the foreword to a volume of Lovecraft's Short Stories, published by the London firm of Flame Tree Publishing (http://www.flametreepublishing.com/Lovecraft-Short-Stories.html). The book is an attractively produced hardcover edition that contains many of Lovecraft's tales early and late.
David E. Schultz and I are working hard on preparing editions of Lovecraft's letters for publication with Hippocampus. The Letters to C. L. Moore (also containing the letters to Fritz Leiber, Henry Kuttner, and Frederic J. Pabody) will be out soon, and the mammoth Dawnward Spire, Lonely Hill: The Letters of H. P. Lovecraft and Clark Ashton Smith should follow (in a hardcover edition) in May. Lots of good stuff here!
Just a short blog this time, chiefly to announce the arrival (at long last) of copies of Gothic Lovecraft (Cycatrix Press, 2016). This all-original anthology has been magnificently designed by Jason & Sunni Brock of Cycatrix Press, and, all apart from its contents (which I think are also pretty fine), is a superlative job of book production. I have numerous copies of the trade edition, which is currently selling for $45.95, but I will be happy to let copies go for $40.00 on the usual terms.
I do not yet have copies of the signed/limited edition, but expect to have those very soon. It is currently being sold for $74.95, and I am happy to let it go for $70.00. People can reserve their copies and I will send them out as soon as they are here (probably about a week or so).
Just a reminder on the table of contents of the book:
The Shadow over Lear by Donald R. Burleson
The Revelation at the Abbey by Don Webb
Old Goodman Brown by Jonathan Thomas
Square of the Inquisition by Lois H. Gresh
The Rime of the Cosmic Mariner by John Shirley
A Yuletide Carol by Mollie L. Burleson
Curse of the House of Usher by Donald Tyson
The Rolling of Old Thunder by Mark Howard Jones
Always a Castle? by Nancy Kilpatrick
As Red as Red by Caitlín R. Kiernan
Four Arches by Robert S. Wilson
The Old Schoolhouse by Gwyneth Jones
Dream House by Orrin Grey
The Unknown Chambers by Lynda E. Rucker
I also have received multiple copies of the full-length LP of my readings of Clark Ashton Smith's poems and prose-poems, The Muse of Hyperborea (http://www.cadabrarecords.com/2017/01/clark-ashton-smith-the-muse-of-hyperborea-read-by-s-t-joshi/). I haven't actually listened to the recording as yet, but it contains a full 18 works by Smith, ranging from the inexpressibly cosmic "Ode to the Abyss" to the exquisitely poignant "From the Crypts of Memory." I will be happy to dispose of my spare copies for $20 each.
I am thrilled to announce that Derrick Hussey of Hippocampus Press has decided to continue publication of our weird poetry journal, Spectral Realms, beyond issue #6, which is about to come out. Although sales of this journal have not been as robust as we would like, it seems to be a great hit among the poets themselves—and I like to think that it is providing a valuable and appealing venue for the dissemination of weird poetry. There are so many good poets out there that they need a forum like this (and many others!) to broadcast their work to readers. Now let's hope we can do something to boost those sales!
I seem to have given a great many interviews of late. One of them, conducted by Henrik Möller, has now appeared as a podcast on a Swedish website: https://soundcloud.com/henrik-moeller-180995804/udda-ting-avsnitt-17-st-joshi. Henrik informs me that this is "95% in English," so I trust interested listeners can enjoy it.
I also gave an interview to Hector R. Laureano, a young man in Boston who is working on a book on horror fiction, film, and music. Hector states that the book's focus is "why we actively seek out horror." Let's wish him the best of luck!
Maxwell I. Gold conducted an interview of me (by email), and he has now posted it: https://thewellsoftheweird.com/2017/01/18/the-historian-of-the-supernatural-the-keeper-of-weird-fiction/. A most impressive-looking site!
I believe there are still others, but they have not been put up yet.
I am interested to see that Studies in the Fantastic, an academic journal that I began with University of Tampa Press, which lasted only two issues, has been revived. Two further issues have now come out, and this second one (#4 in all) now has a fine article by Chris Brawley on Thomas Ligotti, as well as an article that discusses Lovecraft in part: http://www.ut.edu/TampaPress/pressDetail.aspx?id=32212257271. I have not read the Lovecraft piece, but Brawley's Ligotti article is a splendid piece of work.
I note with interest the demise of William Peter Blatty on January 7. Given, however, that very little of his work subsequent to The Exorcist (1971) is of any particular interest, and given that he recently supplied a blurb to a vicious anti-Hillary Clinton polemic, I am not sure that the passing of this person is much to be mourned.
Far more to be regretted, in my mind, is the passing of Kevin Starr, a pioneering scholar of California literature: https://www.nytimes.com/2017/01/16/us/kevin-starr-dead-california.html. Starr was gracious enough to have written the foreword to our edition of George Sterling's collected poetry, and for that alone I shall be greatly in his debt.
I am sorry to report that Joe Morey of Dark Renaissance Books has been forced to retire from publishing because of health reasons. But luckily for me, Hippocampus Press will pick up the eight-volume Classic Weird Fiction series that I compiled for Joe. So watch for these books emerging over the next few months (and years)!
The other day I received copies of Weird Fiction Review 7 (Fall 2016), just out from Centipede Press. I believe this is another superlative (and large!—360 pp.) issue, with fiction by Steve Rasnic Tem, John Shirley (in collaboraton with Don Webb), Jonathan Thomas, Nicole Cushing, and Mark Howard Jones; two articles on Robert E. Howard (by Charles A. Gramlich and Benjamin Garstad), along with articles by James Goho (on Caitlín R. Kiernan), John C. Tibbetts (on Jack Finney), J.-M. Rajala (on some lost works by Ambrose Bierce), Jason V Brock (a comparison of David Bowie and Franz Kafka), and others; and poetry by Ann K. Schwader, John Shirley, Wade German, K. A. Opperman, Ashley Dioses, Ian Futter, Christina Sng, and others (including reprints of poems by H. P. Lovecraft and Robert E. Howard); an interview with William Hjortsberg; and still other items. I see that Centipede Press is currently offering the issue at a substantially discounted price (http://www.centipedepress.com/anthologies/wfreview7.html). I have a few spares available and will be happy to make them available for $20 to interested customers.
I trust that Hippocampus Press is gearing up to publish some items that should have come out in 2016, including David E. Schultz's landmark edition of Lovecraft's Fungi from Yuggoth. I see that Dead Reckonings Nos. 19/20 (dated, I believe, Fall 2016) is announced as available, but I have not received any copies yet. I have as many as six reviews in it. I believe my edition of Dunsany's The Ghost in the Corner and Other Stories should be out soon, along with my collection of essays, Varieties of the Weird Tale. And there are editions of Lovecraft's letters (to Clark Ashton Smith; to C. L. Moore, Henry Kuttner, Fritz Leiber, and others; and the "family letters," to his mother, aunts, etc.) that are close to done and should come out later in the year.
Not even counting the above, I see that I have 26 books forthcoming from various publishers. This includes 13 from Centipede Press:
Arthur Machen (Library of Weird Fiction)
Ambrose Bierce (Library of Weird Fiction)
Bram Stoker (Library of Weird Fiction)
Robert Aickman (2 vols.)
E. F. Benson (2 vols.)
W. C. Morrow
D. H. Lawrence
J. Sheridan Le Fanu
Robert W. Chambers
John Metcalfe
W. H. Pugmire
I have 8 books coming out from Dark Renaissance Books (in the Classic Weird Fiction series):
Mary E. Wilkins Freeman
E. Nesbit
Irvin S. Cobb/Gouverneur Morris
Théophile Gautier
Thomas Burke
W. W. Jacobs
Robert W. Chambers
Mary Shelley
Then there are other titles from random publishers:
Gothic Lovecraft (Cycatrix Press)—apparently out, but I have not received any copies
Nightmare's Realm (Dark Regions Press)
The Red Brain: Great Tales of the Cthulhu Mythos (Dark Regions Press)
H. L. Mencken, A Saturnalia of Bunk (Ohio University Press)
Black Wings VI (PS Publishing)
I was thrilled to read Ramsey Campbell's new novel, The Searching Dead (PS Publishing), apparently the first in a trilogy of Lovecraftian novels that he is writing. This novel's Lovecraftian elements are somewhat subdued, but I suspect Ramsey is setting the stage for more overt references later. But the novel is splendidly atmospheric, with subtle and cumulative hints of weirdness throughout. Set in 1952, the novel also seems to be heavily autobiographical, as it appears to reflect Campbell's own Catholic upbringing and his eventual renunciation of orthodox religious belief. The book seems to be a bit difficult to acquire in the US, so readers may have to order from the publisher: http://www.pspublishing.co.uk/the-searching-dead-hardcover-by-ramsey-campbell-4047-p.asp. Possibly copies are available with Mark Ziesing or Subterranean Press.
Another book I read recently is a more problematical item. This is Paul La Farge's novel The Night Ocean (due out in March from Penguin Press) http://www.barnesandnoble.com/w/the-night-ocean-paul-la-farge/1124019928?ean=9781101981085. This is an historical novel about Lovecraft's relations with R. H. Barlow, especially as the former visited the latter in Florida in the 1930s. But, aside from making all manner of silly errors regarding the work of Lovecraft and others, the author cannot help suggesting that Lovecraft and Barlow had some kind of homosexual relationship—even if the work that Barlow is supposed to have written, in which this relationship is told in graphic detail (under the title Erotonomicon), proves to be a hoax. And in spite of the fact that La Farge comes down hard on the malice and intolerance of the "social justice warriors" (his term) who have excoriated Lovecraft for his racism and anti-Semitism, La Farge's book itself leaves the reader with the impression that Lovecraft is nothing more than the sum of his prejudices. No attempt is made to account for the universal and ever-growing popularity of Lovecraft's work around the world. Nevertheless, the novel is compelling, and readers should make up their own minds about the kind of portrait of Lovecraft it presents.